Franchisees Invited
MAD & Co.
The concept of bubble tea that started out in Taiwan in 1980s made its way to the international market, is now finding its strong base in India. Founded in 2019, MAD & Co. has seen passion for bubble tea travel from the States to the Orient and now to India. The changing lifestyles, along with various health benefits is driving consumers and specifically attracting young adults with its enriching flavours and exquisite menu offering. MAD & Co is emerging as the most recognized bubble tea brand in India with its revolutionizing menu, technology-equipped store systems and a transparent operating model to franchise.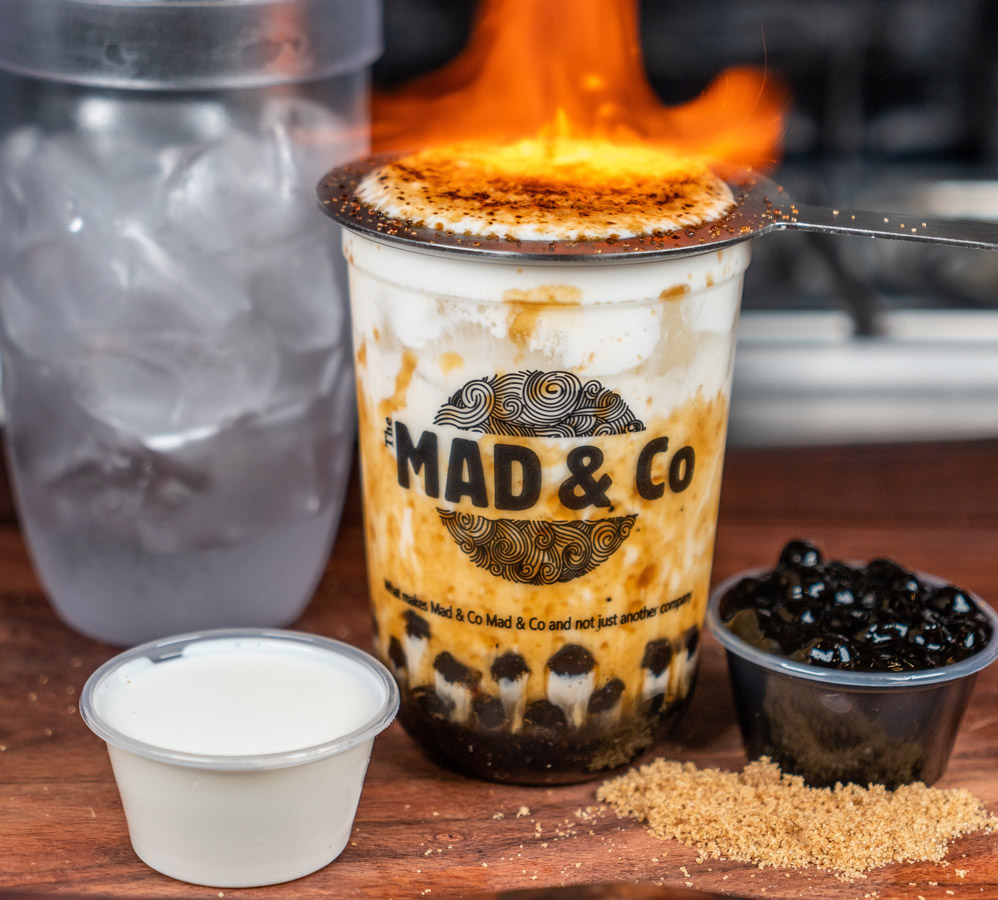 Why MAD & Co
A taste you cannot forget
A brand that's here to create revolution with bubble tea. Powered by video analytics, digital displays, IoT and billing software in place, the exotic menu is made to allure the Gen Z.
Low-fat, vegan, dairy/non-diary with customizable sweetness levels is a treat to savour
100% vegetarian & kid friendly
Lean SKU's
A product line with zero wastage with packaging that's 100% recyclable/biodegradable
A 90 sec. preparation with minimal waiting time
A store system that monitors to detect and follow staff hygiene, sanitization and social distancing in a digital way
Work place SOPs and service reports
Market Opportunities
India has one of the world's largest young adults as consumers
Bubble tea market is expected to reach USD 3.2 Billion by 2023.
With an expected growth rate of 7.20% in the forecast period 2020 to 2027.
Bubble tea predicted to be one of the growth drivers in the F & B category.
Franchise Models
| | | |
| --- | --- | --- |
| | Art Spot(For Malls & IT Parks) | Art House(High Streets) |
| Area Required (SFT) | 50-80 Sq Ft | 500-800 Sq Ft |
| Total Investment (Inc. Franchise Fee) | 15-17 Lakhs | 33-36 Lakhs |
| Franchise Fees (INR) | 6 Lakhs | 11 Lakhs |
| COGS | 34% (plus GST@18%) | 34% (plus GST@18%) |
| Royalty | 0% | 0% |
| Initial Raw Material Cost | Rs. 0/- | Rs. 0/- |
| Profit Margins | 25-30% | 25-30% |
| Payback Period Period | 12 to 18 monthss | 12 to 18 months |
Franchise! The Big Idea & Advantage
– Immense untapped potential
– Category growing at a frantic pace
– Well-positioned products for aggressive growth
– Attractive model economics
– Transparent, straight-forward operating model
– Relatively low upfront capital requirements
– Take-out model through delivery and in-store pickup
– Processes, passion and people
– AI-powered technology to monitor safety of the stores, productivity of the employees, customer service
– Attractive packaging with MAD prints, a refreshing change for all the consumers
Franchise and Share the MADness!
MAD & CO is aggressively seeking to further grow its presence as part of a broader expansion plan across India. To be a leading brand in a fast- growing-category. Be part of a compelling investment opportunity, if you want to be a game changer in the F&B and you have an undeniable passion for exotic teas like all of us at MAD & Co. do.