Be The Future of Greener Bikes
Franchise with AVERA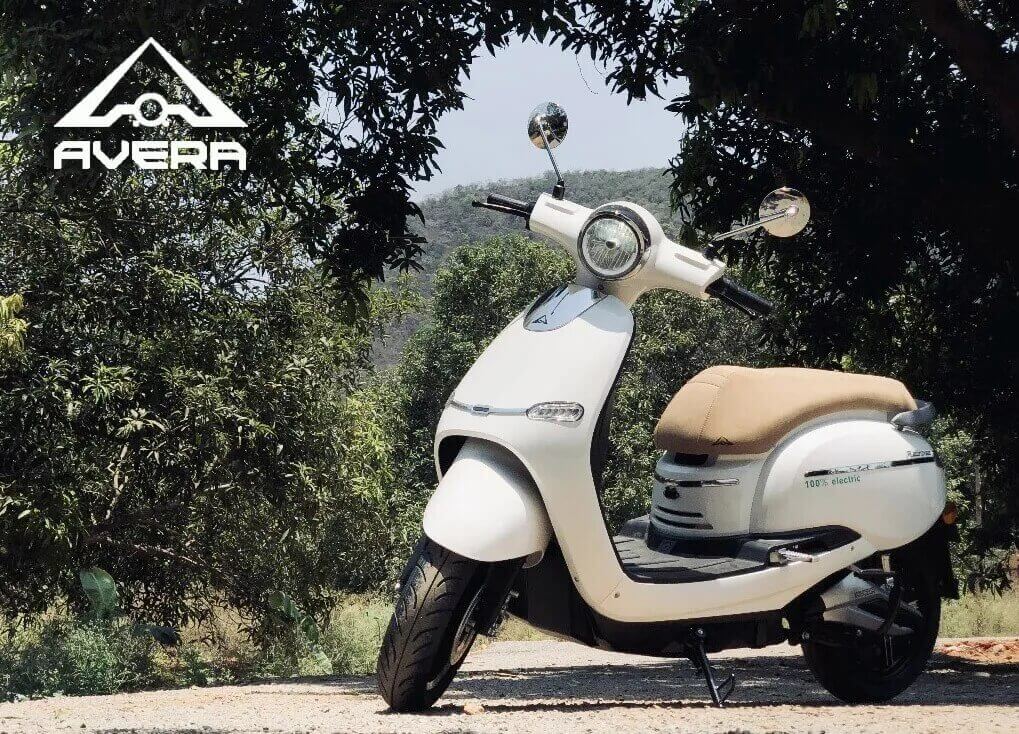 AVERA
Your Ride for Cleaner and Greener Tomorrow
Electric is the new mantra in the mobility segment. What was then a wait and watch segment now has everyone interested. With the electric vehicle market estimated to reach a value of INR 17.43 billion by FY 2024, every big, medium and small player is foraying into it. Looking for an electrifying franchise opportunity? Self-start your entrepreneurial journey with AVERA.
AVERA is a vertically integrated manufacturer of pure electric vehicles and energy retailer brand. Launched by a team of young entrepreneurs in Amaravati region of Andhra Pradesh, AVERA aims to become a globally recognized producer of economical, greener, and energy-efficient pure electric vehicles.
With a key focus on electrifying traditional emission-releasing vehicles for a more sustainable and economical solution, AVERA aspires to disrupt the two-wheeler automotive industry in India, by offering electric bikes and scooters at prices affordable to the average consumer.
The AVERA way of Mobility
Market Opportunity - The Future of EVs
The electric two-wheeler (E2W) market in India has grown by a CAGR of 62%  from FY2016 till FY2020.
The FY2020 sales of electric two-wheelers stood at 152,000 units, which is a  marginal increase of 20% over that in the previous year. E2W space is anticipated  to witness significant disruption after 2024 when the battery prices fall below $100/ kWh.
Market is likely to grow from 1,52,000 units in FY2020 to about 34,50,000 units  by FY2025 (CAGR of 87%).
The electric bikes market in India is estimated to reach a value of INR 17.43 Bn by FY 2024.
Although electric bikes comprised a minimal share (~0.6%) of the total two-wheeler sales in India in FY 2019, its sales with respect to the previous year have increased by about 129%.
Niti Aayog has proposed and mandated the electrification of all two wheelers with a displacement capacity of below 150 cc by March 2025.
With the BS-VI (emission) norms becoming applicable from April 2020, EVs will become more price-competitive with conventionally fuelled vehicles, thus accelerating sales.
Under the schemes FAME and FAME II, the government has outlaid a budget of INR 107.95 Bn, directed towards the faster growth of electric vehicles.
Electric bikes have already set a prominent footprint in the states of Uttar Pradesh, West Bengal, Gujarat, Tamil Nadu and Maharashtra. With further development in charging infrastructures, the adoption of electric bikes is likely to increase in other parts of the country as well.
Franchise Business Models
 
Silver Model
Gold Centre
Elite Centre
Area Required (SFT)
700
1200
1800
Total Project Cost (INR)
29.9 Lakhs
56.9 Lakhs
99.4 Lakhs
Development Fees (INR)
5 Lakhs
10 Lakhs
20 Lakhs
Margins (EV)
11%
13%
15%
Margins (Accessories)
25%
25%
25%
Payback Period
2 Year 5 Months
2 Year 4 Months
2 Years
Agreement Term
5 Years
5 Years
5 Years
Future of Mobility - Ride With Us
With electric bikes poised to be the game-changer for the two-wheeler industry and our inevitable electric vehicles with best in class performance and affordability, this is a perfect time and opportunity to be part of the new-age clean revolution. Conceived and proudly built in India, join us in our journey of revolutionizing the two-wheeler segment. Ready for a ride together?